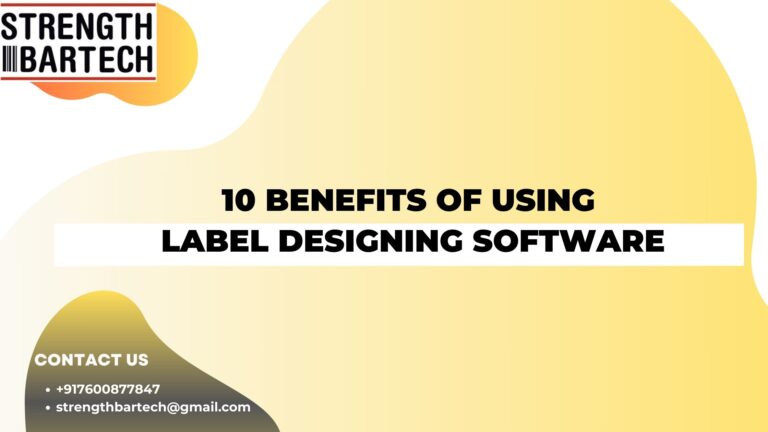 Are you searching for the benefits of using label designing software?
Want to know about label designing software?
If yes!! Then you're at the right place…!
In today's visually driven world, labels are more than just stickers on products. They serve as powerful communication tools, conveying essential information about a product while also creating a unique brand identity. To design labels that are both informative and visually appealing, many businesses turn to label designing software. In this blog, we will explore the numerous benefits of using label designing software and why it's a valuable tool for businesses of all sizes and industries.
1. Customization and Branding
Label designing software empowers businesses to create labels that align perfectly with their brand identity. From choosing the right colors, fonts, and logos to adding unique graphics and images, customization options are virtually limitless. This ensures that your labels not only provide necessary product information but also leave a lasting impression on consumers.
2. Cost-Effective Designing
Hiring a professional graphic designer to create labels can be expensive, especially for small businesses and startups. Label designing software eliminates the need for outsourcing and allows in-house teams to design labels efficiently, saving both time and money.
3. User-Friendly Interface
Most label designing software is designed with user-friendliness in mind. Even those with limited design experience can quickly learn to use these tools. This accessibility makes it possible for anyone within your organization to contribute to label design without a steep learning curve.
4. Consistency Across Products
For businesses with multiple products, maintaining a consistent label design is crucial for brand recognition. Label designing software allows you to create templates that can be reused across different products, ensuring a cohesive look and feel.
5. Rapid Prototyping and Testing
Innovative businesses often need to iterate their label designs quickly. Label designing software makes it easy to create prototypes and test various label versions without incurring additional costs or wasting time. This flexibility can be invaluable in a competitive market.
6. Compliance and Regulation
In industries where labels must adhere to strict regulations, such as food, pharmaceuticals, or chemical products, label designing software can help ensure that all necessary information and warnings are included. Templates can be configured to meet industry standards, reducing the risk of non-compliance.
7. Integration with Data Sources
Advanced label designing software often allows integration with databases and data sources. This means you can automatically populate labels with variable data like product names, barcodes, and serial numbers, reducing the risk of human error and improving efficiency.
8. Print Accuracy
Label designing software is often paired with label printing solutions. This integration ensures that the labels you design are printed accurately, with no discrepancies between the digital design and the physical label.
9. Eco-Friendly Options
Many label designing software solutions now come with eco-friendly printing options, allowing businesses to reduce their environmental footprint by using less ink or selecting sustainable label materials.
10. Global Reach
If your business operates in international markets, label designing software can help you easily create labels in different languages and comply with regional labeling requirements. This ensures your products are market-ready worldwide.
Conclusion
Label designing software has become an indispensable tool for businesses looking to create eye-catching, informative, and compliant labels. From cost savings to customization, rapid prototyping to global reach, the benefits of using label designing software are undeniable. Whether you're a small startup or a large corporation, investing in label designing software can elevate your branding, improve efficiency, and ensure compliance with industry regulations. It's a powerful tool that should be in the toolkit of any business that takes its labeling seriously.
Let's wrap up here! Well, we provide the best label designing software in Ahmedabad. For any queries or booking, Visit the Contact Us page!